3 October 2016
The Young Ladies of Avignon
Did you know that Picasso's abstract depiction of five Barcelona prostitutes was deemed immoral when it debuted at the artist's studio in 1907?
Les Demoiselles d'Avignon (The Young Ladies of Avignon) is an  oil painting  created in 1907, and was titled The Brothel of Avignon, when it was first created. It is is a mix of the Cubism, Modernism and Primitivism Art-styles.
The painting depicts five nude female prositutes from a brothel on Carrer d'Avinyó (Avinyó Street) in Barcelona. Each woman is painted  in a quite aggressive and unfeminine way,  with angular and unrealistic body shapes. The three figures on the left were made in the Iberian style, while the two on the right  have  some African mask-like features. Although Picasso used to deny that he had been influenced by African art, it is believed that he changed the original features of the women  after his visit to the Musée d' Ethnographie du Trocadéro (Museum of Ethnography of Trocadero).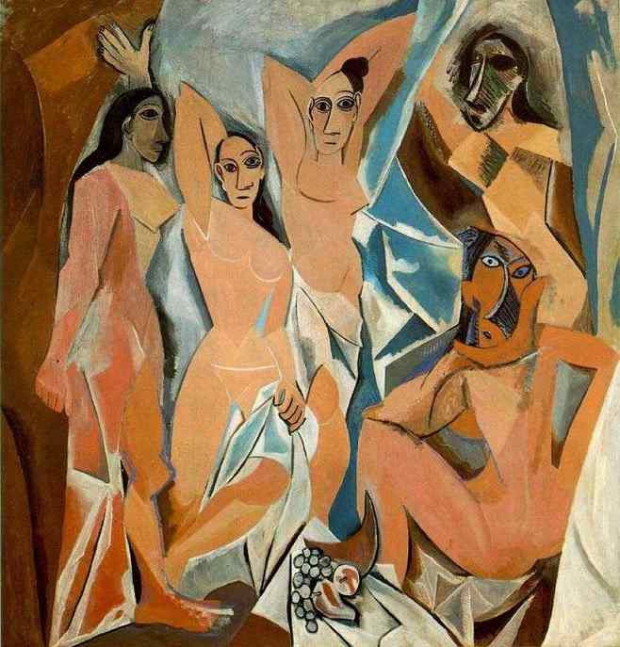 The Young Ladies of Avignon, by Pablo Picasso
At the bottom of the painting there is a table with fruits on it. Therefore, one can say that it is a painting within a painting. Behind the women, in the background of the painting, are the curtains of the brothel. This was the only way for the artist to create a feeling of depth, as the painting is mainly two-dimentional.
When it was first displayed, The Young Ladies of Avignion was deemed immoral...
In 1916 it was put on display at an exhibition curated by André Salmon. Nine years after the painting had been completed, the name of it needed to be changed. The original name, Le Bordel d'Avignon (The Brothel of Avignon) , was considered to be a bit too shocking for the audience of those days, and therefore it was changed to Les Demoiselles d'Avignon.
At that time the painting didn't have the acceptance of today. It stayed in Picasso's studio for a long time, until finally André Breton convinced him to publish it.
The painting was bought by Jacques Doucet, an American fashion designer and art-collector, in 1924 for 25,000 francs, and after his death from another private collector. Later on, Les Demoiselles d'Avignon was exhibited  at the Jacques Seligman and Co. Art Gallery in New York, USA, and some years later, the Museum of Modern Art bought the painting to add it to its permanent collection.
An intresting fact is that Picasso created over 100 preliminary sketches before setting his vision down on canvas, and in previous incarnations the figure at the far left was…a man!
References
 Text by Melina Avraam
SaveSave