3 October 2016
The Scream
The Scream (Norwegian: Skrik), by Edvard Munch is probably the most famous painting of Expressionism. However, there is not only one work but five versions of a composition, created as both paintings and pastels, between 1893 and 1910.
Although it is not well known, Munch intended The Scream to be part of a series, named the Frieze of Life. These series dealt with emotional life, and explored three main different themes: Love, Anxiety and Death. The Scream is the last painting of the Love theme, and symbolizes despair. The German title the artist gave to these themes is Der Schrei der Natur (The Scream of Nature).
The painting depicts a genderless figure with an agonized expression and a background with a thunderous bloody orange-red sky.  The figure is screaming, with its mouth hung wide open and its hands on the sides of its face.  
In his diary Munch wrote:
'One evening I was walking along a path, the city was on one side and the fjord below. I felt tired and ill. I stopped and looked out over the fjord—the sun was setting, and the clouds turning blood red. I sensed a scream passing through nature; it seemed to me that I heard the scream. I painted this picture, painted the clouds as actual blood. The color shrieked. This became The Scream.'
So, the painting seems to be autobiographical in reality. As it is believed, it represents Munch himself or, better, what was going on in his head. It is known that the artist had a family history of poor physical and mental health. Both his father and mother had some mental 'issues' and the artist himself had a history of alcohol abuse. Considering this, one can assume that his psyche was very often a mess…
It is also worth mentioning that the scene of the painting had a real location. It is a road traversing the Ekeberg hill, southeast of Oslo. Munch was familiar with that neighbourhood as his younger sister, Laura, had been committed to an insane asylum in the area.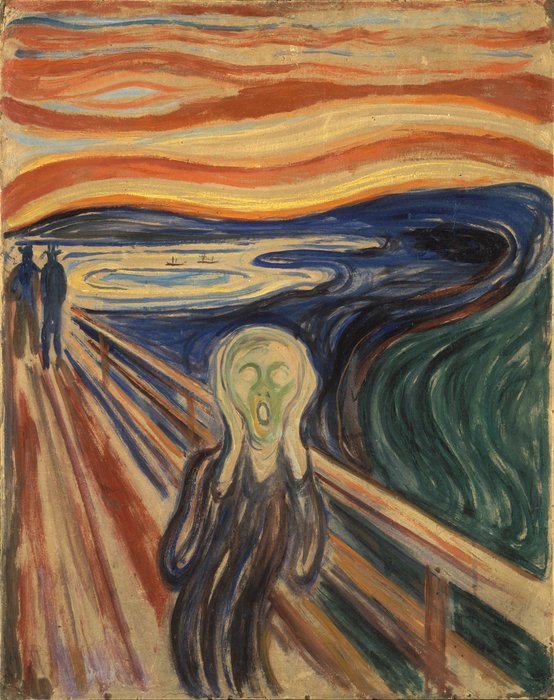 As mentioned above, there are technically five separate versions of The Scream. 
The first two are located in the National Gallery in Oslo and the Munch Museum. A privately owned third version was recently sold for nearly $120 million at auction. Yet another version from 1895 is a black and white lithograph, and the final version, is also held in the Munch Museum.
Finally, three versions of artwork have been the target of several high-profile art thefts, however,  all of them were recovered.
References:
Text by Melina Avraam