7 November 2016
The so-called Munich School, and the Greek painting of the 19th century
The name Munich School (Greek: Σχολή του Μονάχου) was given to the painters who studied and/or worked at the Royal Academy of Fine Arts of Munich (German: Münchner Akademie der Bildenden Künste) between 1850 and 1918.
The artistic movement of the Academic Art / Academic Realism owes its development to the  relationships that were established between Greece and Bavaria, during King Otto's (the first modern King of Greece) years. Greek artists, as the recently liberated Greek country could not afford to support them, were encouraged to study painting in Munich. As a result of the strong academic and personal bonds that developed between Greek painters and Munich artistry, the so-called Munich School was born.
The School, which was led by Karl von Piloty, emphasised on fresco, a technique of mural painting executed upon freshly-laid, or wet lime plaster.  Although the paintings created in that period, were rich in emotional tension, the scenes were depicted in a rhetorical and theatrical way. The main themes were representing urban or rural life, and the artists were specialized on portraiture, landscape, still life and history painting.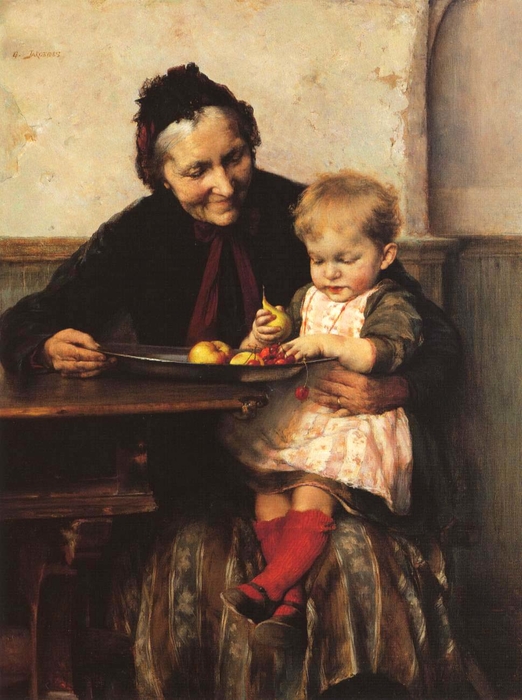 Grandma's Favorite by Georgios Jakobides
Among the main  representatives of the artistic movement were Nikiforos Lytras (1832–1904), Nikolaos Gyzis (1842–1901), Georgios Jakobides (1853–1907), and Georgios Roilos (1867–1928).
Nikiforos Lytras is considered to be the pope of Greek painting and the greatest iconographer of Greek life during the 19th century. He focused in history painting, and his subjects were inspired by Greek Mythology and Greek history.
Gyzis, who later became a professor at the Academy of Fine Arts in Munich, worked mainly on ethnography, iconography of visions, allegories, symbolisms and religious themes.
 Jacovides' paintings were mainly portraiture and depiction of children scenes. When he returned to Greece he became the founder and first curator of the National Gallery of Greece in Athens and also the Director of the Athens School of Fine Arts. 
Other famous representatives of the Munich School are some of  the first painters of free Greece, such as Theodoros Vryzakis (1814–1878) Konstantinos Volanakis (1837–1907) and Ioannis Altamouras (1852–1878).  All of them were inspired by the Greek War of Independence in 1821, and tried to idealise the Ideas of the Greek Revolution.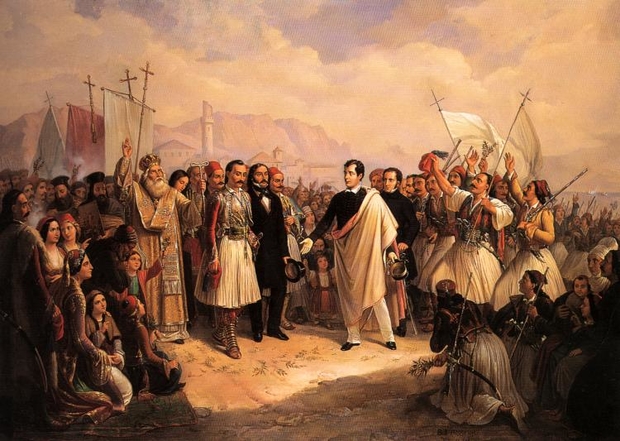 Lord Byron at Missolonghi by Theodoros Vryzakis
Many of the artists mentioned above, after some years returned to Greece to teach at the Polytechnic School and later Athens School of Fine Arts. However, some of them, like Nikolaos Gyzis, remained in Munich, the so-called Athens on the Isar.
Nowadays, the artworks of the Greek representatives of the Academic Art can be found mainly in the National Gallery of Athens, but also in private collections, museums and art galleries around the world.
References:
Text by Melina Avraam