13 April 2016
USEUM Joins the Open Data Movement: Old Masters Paintings Available to Download
USEUM's mission from the very beginning has been to make art easily accessible. From the promotion of thousands of contemporary paintings by participant painters and illustrators from over 100 countries around the world to the introduction of Old Masters later on, the goal of USEUM, of the first ever crowdsourced art museum, has always been to ease access to art. Today we are taking a big leap towards that goal and are proud to announce that in the next few months we will be making available to download 50,000 Old Masters paintings free of charge in high resolution.
Access to images of paintings has always been a very complicated matter, however with more and more museums releasing their collections to the Public Domain and with the vital contribution of USEUM's Contributors and Conservators, we are now able to simplify access to all these works of art. For the first time, USEUM makes it easy to search, browse and download Public Domain paintings in high-resolution, all in one platform.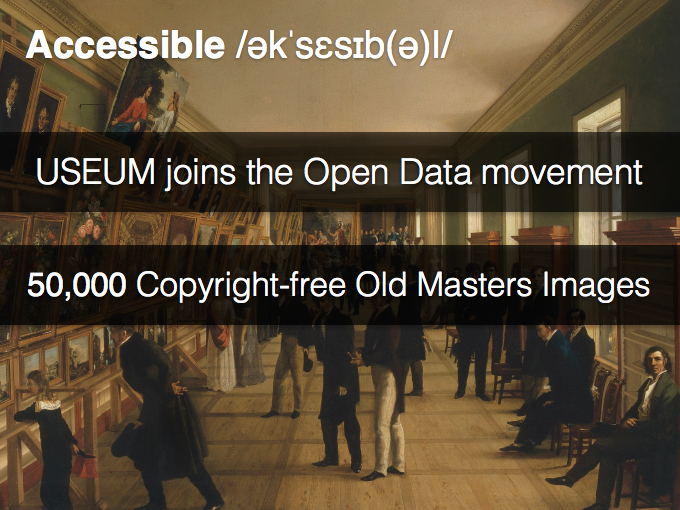 In the next few months we will be introducing a "Download" button on our website useum.org and on our iPhone application that will enable anyone to obtain thousands of paintings, deemed to be in the public domain with regard to both the artist's rights and to the artwork's photographic reproduction. We will be making paintings available to download on an ongoing basis, so whether you are looking for an image to use as your Facebook cover photo, for research, or even as a wallpaper for your smartphone or laptop, from now on you will know where to look!
Having started as a Ph.D. project at UCL's Centre for Advanced Spatial Analysis and UCL Digital Humanities with the vision to make art easily accessible, USEUM with this move goes far beyond anyone would have ever expected. For us making this announcement today is a dream come true and we hope that this new feature will allow people to enjoy and celebrate art and the work of Old Masters like never before.
Thank you all for joining us in this long journey. From all the participant artists on USEUM, who shared our vision and exhibited their work on USEUM, when it was still an infant platform, to all the contributors and conservators who through their meticulous contributions helped grow USEUM and to everybody, who in the last few years reached out to us and helped us in so many other ways; without you USEUM simply would not exist today.
The USEUM Team
If you would like to be notified when the "Download" feature for the Public Domain Old Masters paintings will be launched become a member (it's free!):