Cristina Motta is an Art Historian and an Art Editor from Bergamo, Italy. After studying Economics in Bocconi for a year, Cristina persuaded her passion for the arts with a BA in Humanities from the University of Pavia. She has worked as an Art Editor for various publications in Italy and she is currently studying towards her MA in Digital Humanities at the UCL in London. Cristina is a contributing author for USEUM.
"Futurism Died when the Future Became the Present"
An exclusive interview with Vittorio Canta
The idea to approach Vittorio Canta for an interview occurred when we were curating USEUM's Futurism exhibition. While browsing USEUM to find appropriate artworks for Futurism, we came across Vittorio Canta's artworks: Circus Minimum, Horse Power and Lance's Triumph could not help but remind us of Marinetti as well as the work of other futurist artists and their commitment to depict the beauty of modern life – speed, technology, movement and dynamism. That is what sparked our curiosity to learn more about the man and the artist Vittorio Canta and his relationship if any with futurism.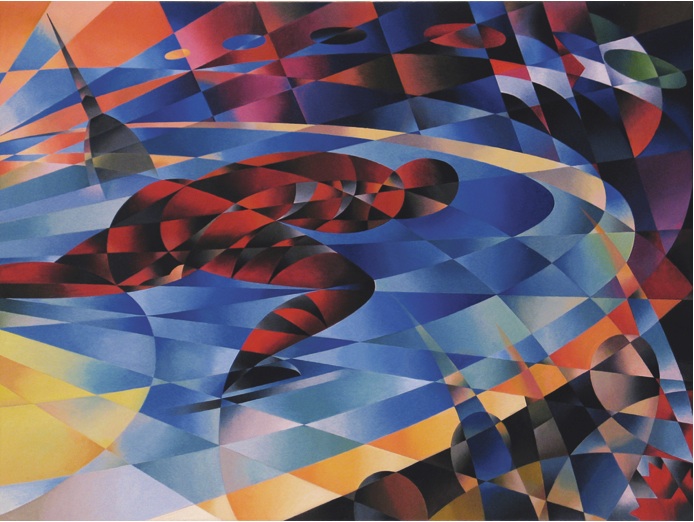 Vittorio Canta was born in Milan in 1941 and the talent he demonstrated at a young age, shaped his future career as a graphic designer. After working in Italy's advertising industry, he moved to Montreal where he led a successful career in visual communications. Today, Vittorio Canta is fully dedicated to painting and in his spare time he enjoys cycling and hiking with his dog in Quebec's Eastern Townships where he resides.
Canta's link with Futurism seems to be more of a life experience rather than an artistic one. Asking Vittorio Canta if his life has been influenced by Futurism he states that "all the life baggage contributes to feed whatever [he] does" as "we are all influenced by our experiences". Carlo Carrà a leading figure of Futurism ran his studio in Brera, Milan, where Canta attended art classes, while Boccioni's La Città Che Sale as well as Carrà's I Funerali dell'Anarchico Galli left "an everlasting impression" in Vittorio Canta's mind "when Milan had just gone through the devastation of the many bombs that still littered the ground of the Italian city" as he explains.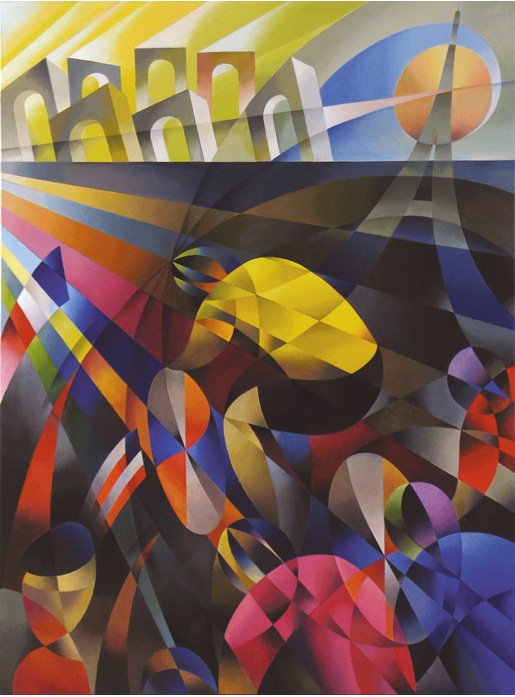 "Futurism died when the future became the present" Canta perfectly explains and refuses to admit to any links with Futurism. When he was growing up Futurism was already emerging as a very significant avant-garde movement with futurist artists having a great influence on the Italian and European art and culture. Vittorio Canta's contemporary work is not representative of that era neither of its expansion.
Canta prefers not to be identified with any specific movement past or present, explaining his stance: "I see it as a simple game of forms that subdivide reality to challenge the mnemonic reconstruction of the image as each viewer believes it to be […] Since my mind scrolls from one topic to another at the speed of light, my world is not limited to my paintings.  Born in a different era, I would have challenged Leonardo or followed in his path. Today, I live my auto-anachronism in this confused world in which 'artists' are the pseudo-maker of art rather than 'art' being the maker of the artist".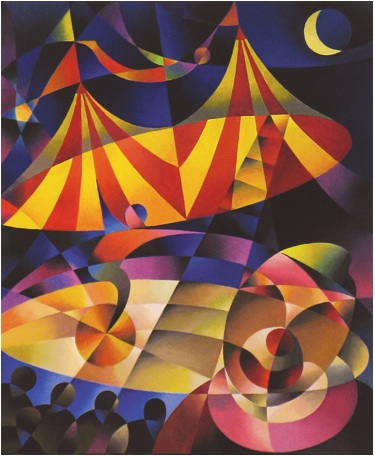 Last, asking him about one of his artworks (Apple picking) appearing in Vita di Milano's The Original Scene he shared the story with us: "I am glad that you have detected the presence of one of my canvases in that composition. Soon after [VDM] saw my work he contacted me and I was flattered by his decision. He told me that it well fitted into the allegory of The Original Scene and I was glad to see it inserted in one of his compositions, especially considering the fact that his paintings contain meanings far above the understanding of the average viewer. While we are at the different end of the art spectrum, we have become good friends".
Enjoy Vittorio Canta's marvellous work here.