1 October 2018
USEUM featured on The Bartlett Doctoral Review 2018: Democratising Art through the 'Museum without walls'
USEUM is honoured to be featured in a 2-page spread in The UCL Bartlett Doctoral Review 2018 for its contribution towards increasing access to art online. Read the full article below, or in the Bartlett Doctoral Review 2018 (pages 22-23).
 
Outcome of doctoral research offers unprecedented access to art online
An imaginary museum that exhibits all of the world's greatest art under one roof, free of geographical constraints, was first envisioned by French philosopher André Malraux in his book Le Musée Imaginaire (1965). A realisation of Malraux's 'museum without walls' (as it was translated) is USEUM.org, an online art museum that exhibits 84,000 paintings by 2,000 participant painters and hundreds of museums from 107 countries around the world. 
True to Malraux's vision, USEUM is the first platform that exhibits a collection of paintings, drawings, and illustrations from the fourteenth century to the present day, ranging from Old Masters to contemporary art.
Amongs USEUM's most notable achievements in its efforts to democratise art is that the platform has received more than 140,000 ratings from members, resulting in one of the first ever democatically-curated art exhibitions. Rankings are crowdsourced from USEUM's members without involvment from a professional curator.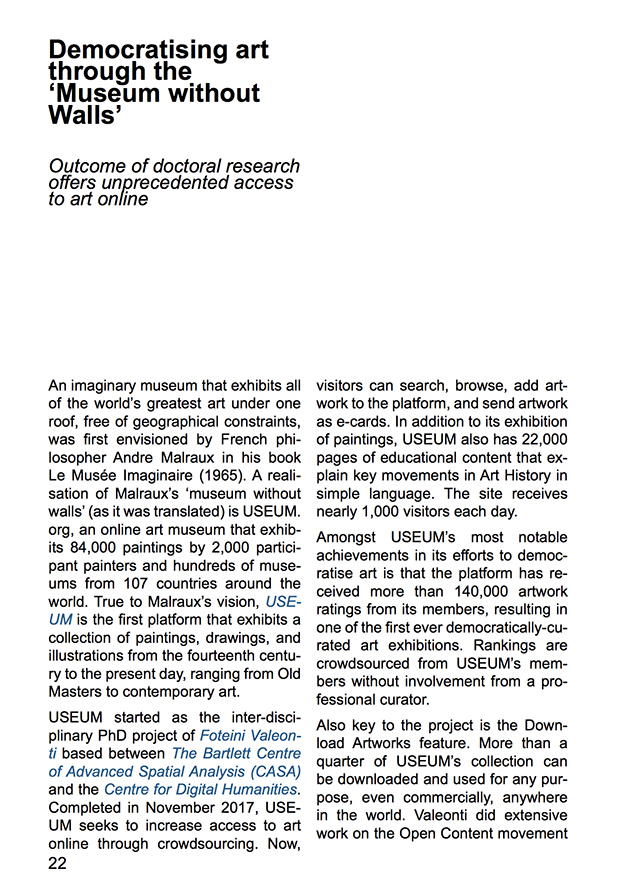 Also key to the project is the Download Artwork feature. More than a quarter of USEUM's collection can be downloaded and used for any purpose, even commercially, anywhere in the world. Valeonti did extensive work on the Open Content movement examining art copyright law and the individual copyright policies of the participant museums. Valeonti individually copyright-vetted more that 5,000 pieces herself.