What is Russian Avant-garde?
Russian avant-garde is a term describing a remarkable influential wave of modern art that flourished in Russia in the early 20th century. Artists achieved breakthroughs in painting, sculpture, theater, film, photography, literature, decorative arts, architecture, and book design. In painting there is no specific style determining Russian avant-garde, since it includes various art movements such as Cubism, Futurism, Neo-primitivism, Constructivism and Suprematism.
However, the commonality in the paintings of this period is that the artists went beyond any accepted norm and conception of art at the time and introduced the viewer to new ideas and great imagination that lead to freedom in art. The key feature of the movement was the experimentation that followed the rejected of any academic tradition. Avant-garde artists' culture is best described in Wassily Kandinsky's words: "There is no must in art because art is free".  
The Expressionism influence along with the social-political issues at the time in Europe and particularly in Russia created that trend. European Impressionism, Symbolism, Fauvism, and Cubism travelled to Moscow through exhibitions and Russian artists who were influenced by European art in several ways, such as Wassily Kandinsky, Ivan Morozov, Marc Chagall, Sonia Terk, Luibov Popova and Sergei Shchukin. The Russian Avant-garde reached its height in creativity around the Russian Revolution of October 1917, a period that is defined by major social alternations. That sociopolitical revolution in the early 20th century enhanced an art revolution that changed the history of art.
Major avant-garde artists were Kazimir Malevich, El Lissitzky, Alexsandr Rodchenko, Natalya Goncharova, Mikhail Larionov, David Burliuk. The oeuvres of these artists include a variety of ideas and forms of expression such as Abstract-expressionist pieces by Mark Rothko, primitive paintings by Natalia Goncharova and Suprematist compositions by Kazimir Malevich, whose "Black Square" (1915) has become the symbol of the Russian Avant-garde art. The remark that the artist himself made for this painting "It is from zero, in zero, that the true movement of being begins" defines the trend of revolution and regeneration in the Russian avant-garde period.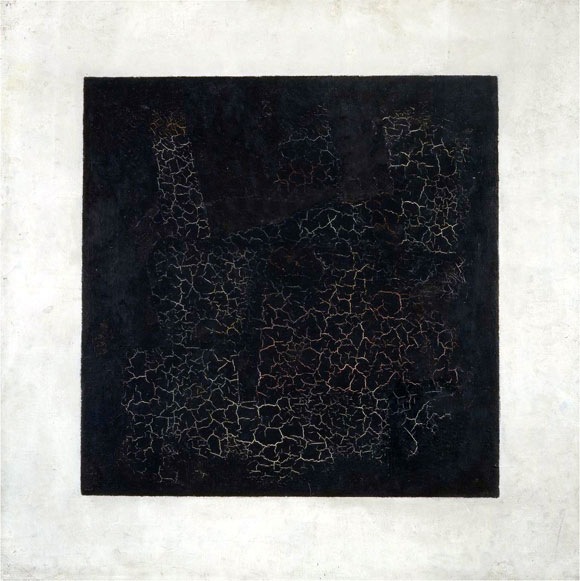 Text by Theodosia Kampili