For Artists: How can I Create Prints & Products for Sale?
You can create Prints and Products for Sale world-wide in minutes!
In order to receive payments securely you must first set up your Shop. If you done that already go directly to Step 4.
1. Click on your name card on the top right: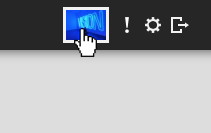 2. On your Profile Page click on the "Shop" tab:

3. Click log in with Paypal, fill in your credentials and you are ready to go! If you don't have a Paypal account already, is very quick to create one.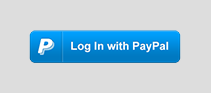 4. After you log in with Paypal, click on your name card (Step 1) and then on the Shop tab (Step 2) and click "Add Product" on the top right:

5. In the step-by-step guide that appears, click on the kind of product you would like to create e.g. Art Print: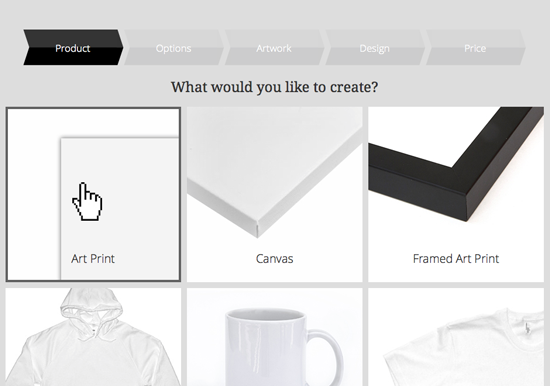 5. On the second step select what sizes you would like to make available for your print. Click "Open the Size Guide" in order to see how big or how small each size is. Also it is recommended to leave the checkbox "Include smaller sizes..." enabled, as it give the customer more print sizes to select from. When you pick a size click "Continue":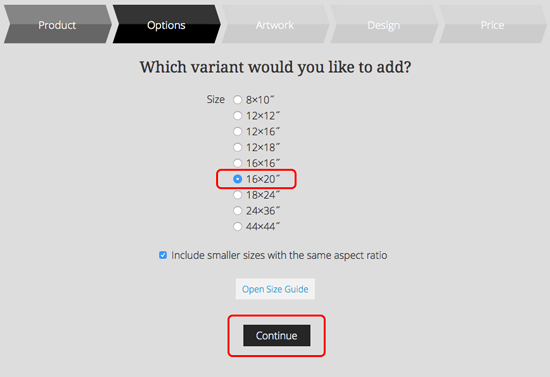 | | | |
| --- | --- | --- |
| Size in Inches | Size in Centimeters | Print Area in Pixels |
| 8" x 10" | 20.32 x 25.40 cm | 1200 x 1500 px |
| 10" x 10" | 25.40 x 25.40 cm | 1500 x 1500 px |
| 12" x 12" | 30.48 x 30.48 cm | 1800 x 1800 px |
| 12" x 16" | 30.48 x 40.64 cm | 1800 x 2400 px |
| 12" x 18" | 30.48 x 45.72 cm | 1800 x 2700 px |
| 14" x 14" | 35.56 x 35.56 cm | 2100 x 2100 px |
| 16" x 16" | 40.64 x 40.64 cm | 2400 x 2400 px |
| 16" x 20" | 40.64 x 50.80 cm | 2400 x 3000 px |
| 18" x 18" | 45.72 x 45.72 cm | 2700 x 2700 px |
| 18" x 24" | 45.72 x 60.96 cm | 2700 x 3600 px |
| 24" x 36" | 60.96 x 91.44 cm | 3600 x 5400 px |
| 44" x 44" | 111.76 x 111.76 cm | 6600 x 6600 px |
6. On the next step click the print's relating artwork. Every artwork featured on a product or print, must be first added as an artwork to the Exhibition (For more information read How can I Add an Artwork?). The print we are creating here will appear on the sidebar of the artwork you will select on this step: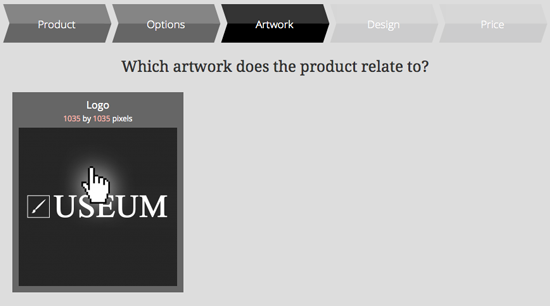 7. The fourth step is the Product Designer. In the Green Box with bold letters you can see the exact dimensions of the print you are creating (here it is 2400 by 3000). In order to cover the whole print area, prepare an image of that size and upload it by clicking "Upload Image" then "Choose File" and then "Upload" as shown below. Once the upload is completed the image will appear in the design area. For best results read the Product Designer Guidelines for guidelines and templates for every type of product.
Many artists choose to leave a white margin around artwork up until the edges of the print (e.g. the Masked Angel print). In order to do that use the Scaling and the Alignment tools to scale down the image and align it to the center. Once you are finished preparing your design click "Design is Ready!":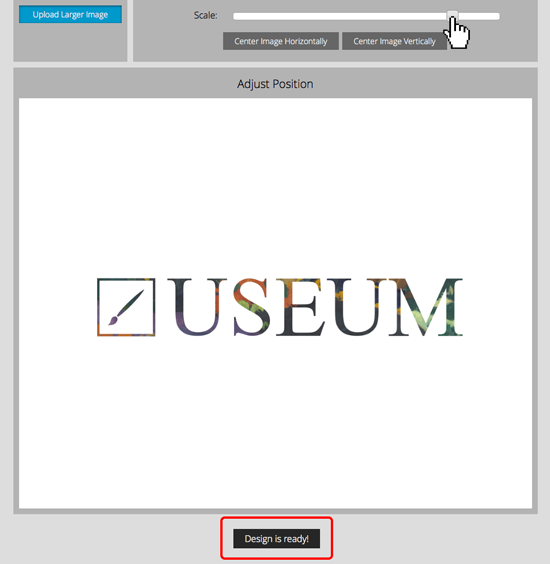 Note 1: Scale up is prevented to avoid loss of quality.
Note 2: If your artwork appears too small, please upload an image of it with larger dimensions.
Note 3: In this example the design we upload is different that the artwork selected on Step 6 (i.e. the USEUM Logo), but since it is branded USEUM we are linking it with the logo.
8. The last step before publishing your product is pricing. When creating a Print you can decide your profit and subsequently the price for every single size your print is available for sale. For other products see What is my Profit for every Sale?. Once you are ready click "Put Product on the Shop!":
Note: It is recommended to round the final price, as it is more attractive to customers.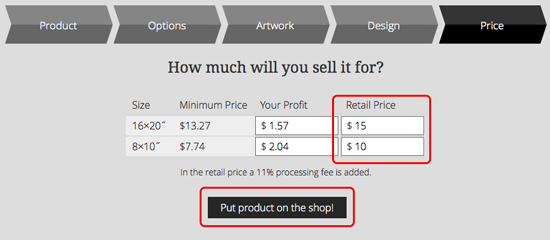 9. The product is ready for sale! Let your fans know about the new product you are selling using one of our "Sharing Options"!