How do I Collect my Favourites? About Hearts (♥)
Hearts is the tool that allows you to create a collection of artworks that you come across, you like and you want to collect so that you can go back to!
Adding an artwork to your favourites
You can heart any artwork by clicking on the little heart icon next to it: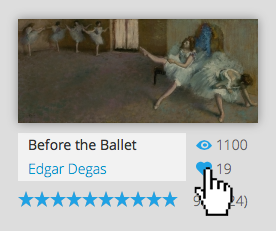 Where can I see my favourites?
All the artworks you have hearted, are displayed on your profile, if you are an Art Lover. Otherwise if you are an Artist, or a Representative then these will be under the "Activity" tab. You can also change the order your favourite artworks are displayed by using the "Arrange Artworks" link: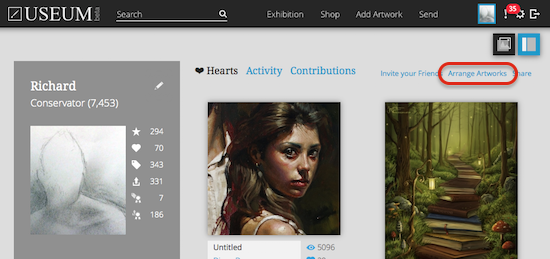 How can I quickly retrieve an artwork that I have hearted?
You can find a specific artwork that you added to your favourites at some point in the past by using Search! Start typing some search terms for the artwork you would like to retrieve, and then select "Search .. in my Hearts". This will limit the search results to inlcude only your favourite paintings!