For Artists: Sell the Original artwork or Limited Edition Prints
If you would like to sell your original artwork and limited edition prints on your portfolio please follow the steps below.
1. Visit the artwork you would like to sell and click "Edit". If you do not see that link, please make sure you have signed in first.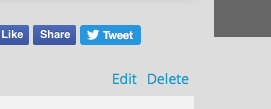 2. In the form that appears click on the label "Original artwork" or "Limited edition prints" depending on what you would like to sell, in order to expand the respective section.
3. Please fill in the following details:
Price: Price in US Dollars which includes the 20% commission fee of USEUM.
Medium: The materials used to create this artwork. E.g. Oil on canvas or Acrylic on canvas.
Size: The physical dimensions of the artwork (or the limited edition print) in inches (or centimetes). E.g. 12" x 24"
Size of Edition (For limited edition prints only): The number of copies produced as part of this edition. 
Requirements
In order to use this feature please bare in mind the following:
You earn 80% of the price you name, when you put your artwork for sale.
You are responsible for packaging and shipping the artwork to the buyer.
Limited edition prints must be numbered and signed by you.
If you have any questions please get in touch with us at originals@useum.org and a member of our team will get back to you within one working day.