10 June 2016
Félix Vallotton: A Craftsman and Story-teller
Yingda Yang is a humanities scholar interested in art. With a background in Literature from Xiamen University and work experience in journalism, Yinga is currently pursuing her Masters in Digital Humanities from UCL in London. Yinga is a contributing author for USEUM.
I first came across Félix Vallotton's artworks online a year ago and was fascinated by complex emotions and hidden stories immediately. Having seen some  of his paintings at Musée d'Orsay in Paris and after curating Félix's profile on USEUM more recently, I felt the need to introduce the artist to a wider audience.
Félix Vallotton, born in Lausanne, Swiss in 1865, was an important figure in the development of the modern woodcut, a printing technique which is conducted by carving an image into the surface of a block of wood[1]. He went to Paris to study art at the Académie Julian in 1882 and became associated with the Nabis later.
Félix Vallotton is for some the chameleon of the Nabis, i.e. a group of Post-Impressionist avant-garde artists who set the pace for fine arts and graphic arts in France in the 1890s[2]. Blogger Fiona Torsch accurately stated: "With a traditional start in academic and portrait painting, Vallotton mastered printmaking, portrait painting, wood engraving, Nabis-style genre scenes and nudes, and then moved on to Realism before leading the way for the New Objectivity movement. After adding landscapes, still life painting, and sculptures to his already impressive repertoire, the resulting impression of this artist is that he was not only a style chameleon, but a fantastic over-achiever"[3].
Arguably some of Valloton's most famous pieces are the Intimates. Art history scholar Lise Holst wrote in her dissertation in 1975 that "One of the richest examples of Vallotton's graphic art", are the The Intimites as they "provide a natural focus for an investigation of an artistic personality that clearly invites closer scrutiny. In addition, the set comprises something of an iconographic puzzle, one which is worth unravelling as it offers insights into both the artist and his milieu"[4].
See the whole series at: [The intimites]
Vallotton examined the relationship between sexes in the context of contemporary marriage, "in a manner which reflected a certain dour outlook on life and a rejection of popular sentimentality that marked both the artist himself and some circles in Paris at the end of the last century". According to Holst "Vallotton expressed the profound pessimism, not uncommon in intellectual circles of the time, which often found expression in bitter irony and dark humour" [5].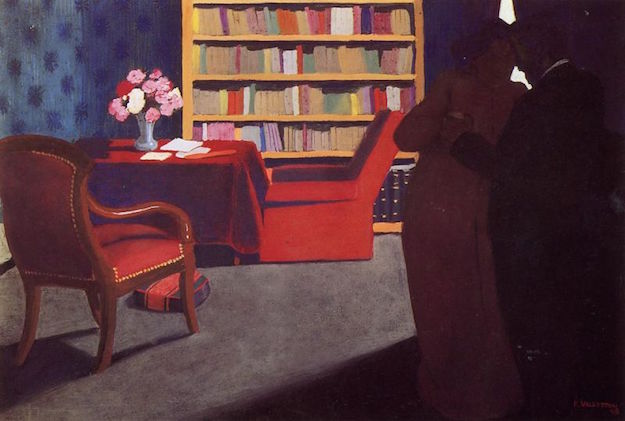 Vallotton's basic woodcut style was described to be "based on a generalisation of form expressed in terms of broad areas of flat black and white, which function abstractly, in two dimensions, as well as serving a descriptive purpose" [6]. As Holst stated "The organization of blacks and whites seldom follows any sort of lighting scheme in these woodcuts. Its rationale is to be found, rather, primarily in design considerations, but also in subject matter, as the contrast is used to underscore thematic oppositions. Though none of Vallotton's woodcuts are truly abstract, the concern for design, for two dimensional play between areas of black and white, was clearly a primary concern of the artist"[7].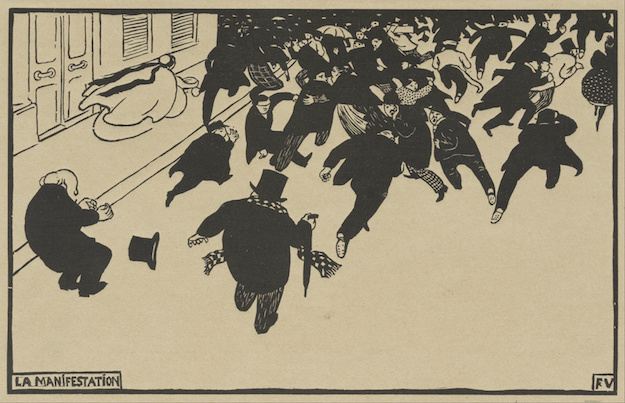 In the view of Chelsea K, blogger and art history graduate, Felix Vallotton was "a gifted raconteur". He was "possessed of the natural aptitude of unfolding and withholding the narrative flow at the most propitious timing. Mysteriousness emerges. The viewers are bound to be tantalised. Whilst most of Vallotton's paintings are about the quotidian, the domestic, beneath them their pent-up energy seethes and trembles, threatening to explode at any moment. It isn't just the quotidian that he depicted, but the interior dramas. Any reader of Ibsen's or Strindberg's plays will know that interior drama can be the most frenetic"[8].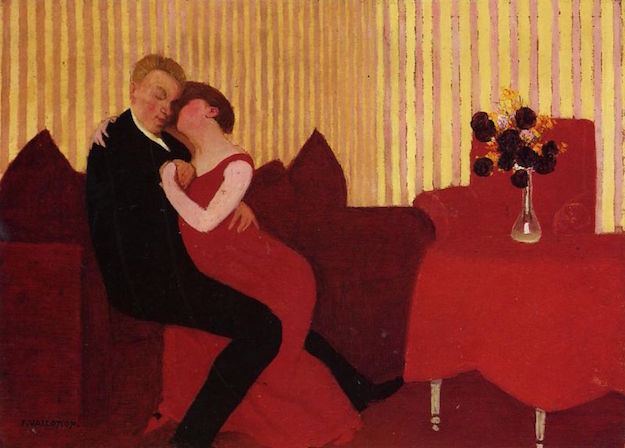 English writer, cultural critic Julian Barnes will co-curate an exhibition of works by Félix Vallotton for the Royal Academy of Arts in 2019, according to the Guardian[9]. Barnes wrote a long review of the neglected works of this Swiss artist, including a discussion he had with his students on one particular piece—The Lie, highlighting the complexity of the emotions sparked by this artwork. Barnes highly praised Vallotton's series Intimités and also his portraits, landscape, and everything but nudes. "He is a painter who, more than any other I can think of, ranges from high quality to true awfulness"[10]. He pointed out "Vallotton's law: that the fewer clothes a woman has on in his paintings, the worse the result"[11], as the nudes Vallotton depicted were "dismayingly inert".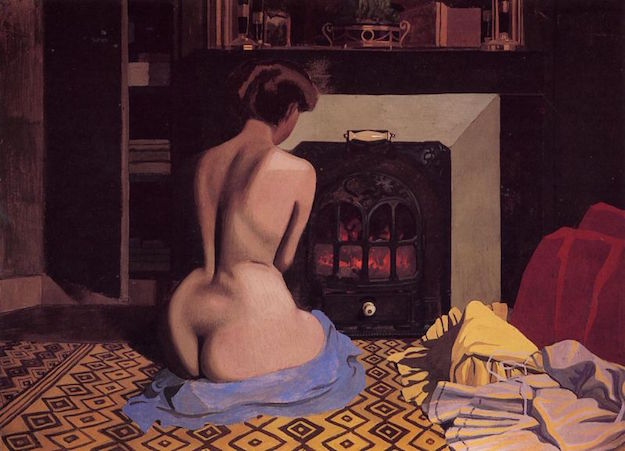 During Vallotton's lifetime, he ventured further beyond painting, writing no fewer than eight plays and three novels, although none of them became known. Fiona Torsch agreed to one theory that "Félix Vallotton never truly found the voice that he felt that he should have. In this quest to achieve perfection, he may certainly have acquired a great deal of prowess working in certain fields, but there was always a 'next goal'. Something bigger, something better, and something to be strived for"[12].
---
References:
[1] Woodcut (2016) in Wikipedia. Available at: https://en.wikipedia.org/wiki/Woodcut (Accessed: 10 June 2016).
[2] Les Nabis (2016) in Wikipedia. Available at: https://en.wikipedia.org/wiki/Les_Nabis (Accessed: 9 June 2016).
[3] Fiona Torsch (2013) Vallotton: One of art's greatest Over-Achievers. Available at: https://felixvallotton.wordpress.com/2013/08/28/vallotton-one-of-arts-greatest-over-achievers/ (Accessed: 8 June 2016)
[4] Holst, L.M. (1975) Felix Vallotton's Intimites:'Le Cauchemar D'un Erudit'. Available at: https://etd.ohiolink.edu/!etd.send_file?accession=obgrad1332868582&disposition=inline (Accessed: 8 June 2016).
[5] Ibid
[6] Ibid
[7] Ibid
[8] K, C. (2010) Musings. Ex Libris. Available at: http://chelseaktheblog.blogspot.co.uk/2014/09/felix-vallotton.html (Accessed: 8 June 2016).
[9] Higgins, C. (2015) Julian Barnes to co-curate exhibition of painter Félix Vallotton. Available at: https://www.theguardian.com/books/2015/aug/25/julian-barnes-cocurate-exhibition-french-painter-felix-vallotton (Accessed: 8 June 2016).
[10] Barnes, J. (2007) Better with their clothes on. Available at: https://www.theguardian.com/books/2007/nov/03/art.julianbarnes (Accessed: 8 June 2016).
[11] Ibid
[12] Fiona Torsch(2013) Vallotton: One of art's greatest Over-Achievers. Available at: https://felixvallotton.wordpress.com/2013/08/28/vallotton-one-of-arts-greatest-over-achievers/ (Accessed: 8 June 2016)